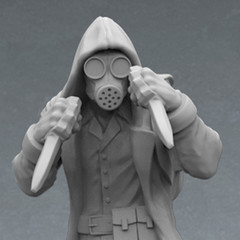 Chris Deavellar
Senior Artist @ Funcom
Cary, United States of America
Summary
I have been a 3D Artist since 2006. I was consistently recognized by two video game studios for my ability to adapt my art skills to the often-changing needs of each art department, and also for taking the initiative in self-teaching the software packages used by each studio. Because of this I was promoted from an intern, to a World Builder, then to Environment Artist, Character Artist, and finally to Art Director.
I believe that my experience in collaborating with the members of an art team at a variety of levels will enable me to step into a 3D Artist position and hit the ground running. I'm looking forward to any and all opportunities.
Skills
Digital Painting
3D Modeling
Digital Sculpting
Software proficiency
Experience
Senior Character Artist at Vicious Cycle Software

Morrisville, NC, United States of America

March 2015 - November 2015

-Hired mid-production to prepare and texture Kung Fu Panda character models for the Vicious Engine.

-Prepared Dreamworks' hires meshes to be game-ready, and textured using a PBR pipeline to match Dreamworks style sheets.

-Modeled and textured props and weapons for Adventure Time.

Art Director at Icarus Studios

Cary, NC, United States of America

-Spear-headed a massive polish overhaul of the majority of in-game assets.

-Implemented changes to the entire art pipeline which resulted in greater efficiency and communication between departments.

-Consistently met production deadlines for both the game launch and subsequent patches.